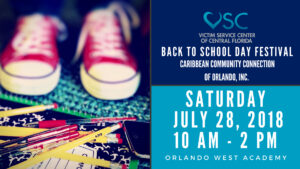 Join VSC at the 15th Annual Back to School Festival held by Caribbean Community Connection of Orlando Inc.. We will be tabling at the event to share information about our services to the community.
Register your child for school supplies here, or just to learn more about the event.
This event had over 750 attendees last year and this year will feature an appearance from Ms. Universal Studios! Children must attend with a parent or guardian and be registered prior to the event to receive school supplies.