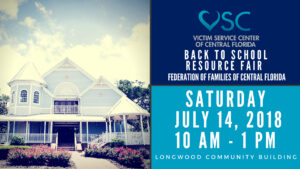 Join VSC at the Back to School Resource Fair held by the Federation of Families of Central Florida. We will be tabling at the event to share information about our services to the community.
On Saturday July 14, 2018 from 10 a.m. – 1 p.m. at the Longwood Community Center at 200 W Warren Ave, Longwood, FL 32750.
This event will feature school supplies, community resources, talent show, games, prizes and more!