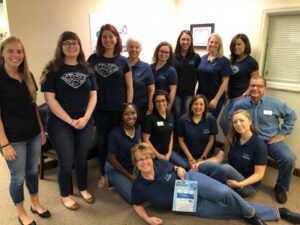 VSC's Dual Relationships/ Conflict of Interest policy, establishes a minimum of 7 years following closure for a former client to be considered for employment.
Sexual Assault Crisis Counselor/ Victim Advocate
The Victim Service Center
of Central Florida
Orlando, FL 32806
Full-time
Qualifications
Experience: Relevant, 1 year (Preferred)
Education: Master's (Required)
License: Driver's License (Required)
Full Job Description
Victim Service Center is the only certified rape crisis center in Orange, Osceola and Seminole counties. Join us and to help victims heal. Provide individualized victim focused services and resources to victims of violent crime, sexual assault and traumatic circumstances within the 24/7 advocacy department. This Full –Time Variable Work Schedule position requires staff to be responsible to assist individuals via a helpline and/or to respond in person to provide accompaniment during forensic exam, when scheduled. Hotline shifts include nights, weekend, and holidays.
Qualifications:
Master's Degree required in area's of counseling, psychology, mental health, social work, or other related social services field.
Bilingual (English/ Spanish) (English/ Creole) highly preferred.
Successfully pass a criminal background check and E-verify.
Possess a valid Florida Driver's license, proof of automobile insurance, and have a satisfactory driving record.
Excellent written and verbal communication skills.
Demonstrated ability to remain calm and respond to individuals in crisis and emergency situations.
Ability to interact positively with unique individuals of all ages, genders, religions, cultures, ethnicities, attitudes, beliefs, other characteristics without discrimination.
Knowledge of law enforcement and court procedures.
Ability to respond to and handle graphic and sensitive situations including violent crime scenes.
Basic computer skills including Word, Excel, and Outlook.
Understand and protect client confidentiality.
Successful completion of the FCASV core training within 30 days of employment.
Successful completion of the OAG Victim Practitioner Designation Training within first year of employment.
Ability to work independently and make decisions in accordance with established policies and regulations.
Ability to work a non-traditional schedule and respond to call outs when assigned to hotline coverage.
ADA Compliance
Physical Ability: tasks involve extended periods at work station or keyboard. Tasks involve driving primarily but not exclusively in Central Florida at various hours of the night or day. Tasks involve working a flexible schedule that will include evenings, weekends, and holidays.
Sensory Requirements: verbal and written communication is required. Tasks may involve exposure via sight and smell of bodily fluids, evidence bearing clothing and violent crime scenes. Tasks involve listening and responding to intimate physical knowledge of a crime against a victim.
Environmental Factors: tasks may involve contact with angry or potentially violent individuals.
Tasks may involve contact with individuals with known and unknown diseases. Tasks may include contact with individuals under the influence of either legal or illegal substances.
Job Type: Full-time
Benefits:
401(k)
401(k) matching
Employee assistance program
Flexible schedule
Health insurance
Paid time off
Schedule:
Day shift
Holidays
Monday to Friday
Night shift
On call
Weekends
COVID-19 considerations:
Due to COVID, we are operating on a partial remote work partial office-based work schedule.
Application Question:
Are you interested in submitting an optional personal diversity statement?
Work Location:
Multiple locations
Company's Facebook page:
https://www.facebook.com/vscflorida/
Benefit Conditions:
Only full-time employees eligible
Work Remotely:
Temporarily due to COVID-19
TO APPLY SEND RESUME AND OPTIONAL DIVERSITY STATEMENT TO RHONDA.WILSON@VICTIMSERVICECENTER.ORG
Sexual Assault Nurse Examiner (Contract Position):
SANE's are expected to be available for at least six (6) 12-hour shifts per month (including nights, holidays and weekends). Must be a Registered Nurse (with 2 years' experience preferred in emergency medicine, obstetrics and gynecology, or forensic nursing). Interested applicants should submit a resume and cover letter with the subject line "VSC-SANE" to Joellen.Revell@VictimServiceCenter.org.
Please note: If you are selected for a position, employees are required to undergo a full fingerprint based background check through the Florida Department of Law Enforcement and FBI including a Sexual Offender database search. Criminal records including illegal drug offenses, violence, violence against children, and weapons charges will not be accepted. Criminal records will be assessed on a case by case basis.
The Victim Service Center of Central Florida does not discriminate in recruiting, hiring, assignment, training, promotion or termination of staff and volunteers, selection of members of the governing board, nor the provision of services based on race, color, religion, disability, pregnancy, national origin, sexual orientation, sex/gender, gender identity, gender expression, genetic information, age, ethnicity, income, veteran status, marital status, or any other factor prohibited by federal, state or local laws, rules and regulations (collectively referred to as "Protected Status").