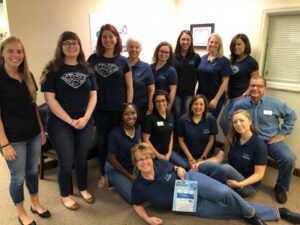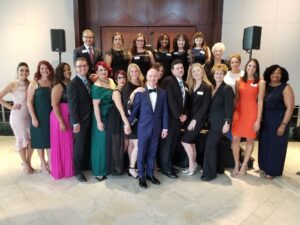 Current Employment Openings:
VSC's Dual Relationships/ Conflict of Interest policy, establishes a minimum of 7 years following closure for a former client to be considered for employment.
POSITION TITLE:  Therapist                                            
REPORTS TO:  Lead Therapist; Program Director                                              
CLASSIFICATION:  Full Time/ Non-Exempt
SUPERVISORY RESPONSIBILITIES FOR:  Interns – Therapy Program
POSITION DESCRIPTION:  To provide professional, compassionate and effective individual, couple, group,
and family therapy to adult survivors of child abuse, non-reporting victims of recent sexual violence, and
traumatized primary and secondary victims of all crimes.  Assists clients in their recovery and achievement of maximum level of independent, competent functioning.
PERFORMANCE RESPONSIBILITY:
Assessment and Treatment Planning.
Schedule new clients for intake and assessment session to evaluate, plan and initiate therapeutic services.
Complete written psychosocial assessment on every client seeking therapeutic services.
Determine services needed in addition to therapy, if any, and make appropriate and timely referrals.
Determine therapeutic approach most likely to be effective with the individual client based on their presenting problems, personal style and belief system.
Develop a written therapeutic treatment plan with the client and secure their signature as confirmation of their consent to proceed with treatment.
Create an individual case file for each client served.
Review progress on the treatment plan and Trauma Recovery Scale with the client as needed and revise as indicated.
 Therapy.
Provide face to face individual and group therapy to clients using a variety of professionally accepted and
effective techniques and approaches tailored to the needs of the client(s).
Schedule and provide appropriate number of sessions to clients on a weekly, bi-weekly and monthly basis as determined by the needs and progress of the client.
Continually re-assess client's need for additional support services and work with VSC's Victim Advocate to
ensure that appropriate referrals are being provided to the client.
Document participation and progress in the case file.
 Documentation.
Create and maintain individual case files as directed on each client served.
Complete all psychosocial assessments, treatment plans and other assessments or written tools in clear and
legible manner; retain in individual case file.
Complete case notes in SOAP format within 24 hours following each therapeutic session or contact.
Maintain file security and client confidentiality in accordance with requirements of agency, State of Florida and professional license.
Make files available for supervisory review no less than monthly and contract monitoring as requested.
Complete monthly reports as requested.
Satisfaction surveys will be sent to clients for quality assurance assessment of services provided by the VSC.
 Consultation
Consult in person or via telephone with other professionals as needed to benefit the program, the therapist, or the client served.
Develop relationships with other professionals with similar expertise, and arrange for case referral if
indicated due to conflicts or inability to properly serve a particular client, and emergency coverage for clients in crisis in the event therapist is on vacation, ill or otherwise unavailable to respond to an unforeseen client emergency.
Other Duties as assigned.
Adhere to Professional Standards, Code of Ethics and VSC Policies and Procedures in the performance of job duties.
Qualifications
Licensure in the State of Florida as a Licensed Clinical Social Worker, License Mental Health Counselor or License
Marriage and Family Therapist – License must be active and in good standing while employed as a Therapist.
Hold and maintain personal liability/malpractice coverage.
Experience providing therapeutic services to individuals that have experienced trauma, anxiety, depression, or other issues related to their victimization. Knowledge and experience with a variety of therapeutic approaches and techniques effective in helping individuals gain mastery over their lives.
Excellent verbal and communication skills.
Ability to interact positively with unique individuals of all ages, genders, religions, cultures, ethnicities, attitudes, beliefs and other characteristics without discrimination.
Understand and protect client confidentiality at all times.
Ability to work independently and make decisions in accordance with established policies and regulations.
Due to the nature of the business, all personnel must successfully pass a criminal background check.
High moral character.
Polite, compassionate, courteous and tactful with the public, victims, their families, law enforcement and other agency staff.
Enhanced training preferred, (i.e. EMDR)
Valid Florida driver's license in good standing in order to travel amongst agency satellite offices to provide services as scheduled.
ADA Compliance
 Physical Ability:  tasks involve remaining calm in crisis situations and when dealing with angry or distraught individuals.
Sensory Requirements:  verbal and written communication is required.
Environmental Factors:  tasks are regularly performed without exposure to adverse environmental conditions, such
as dirt, dust, pollen, odors, wetness, humidity, rain, fumes, temperature and noise extremes, machinery, vibration,
electric currents, traffic hazards, animals/wild life and toxic/poisonous agents. Tasks may include contact with angry or potentially violent people, disease or pathogenic substances.
Interested applications should email their resume and cover letter with the subject "Open Therapy Position" to Brandi.Godbee@VictimServiceCenter.org.
POSITION TITLE:  Contract Therapist                                            
REPORTS TO:  Lead Therapist; Program Director     
Victim Service Center of Central Florida is seeking independent contractor to perform professional therapy service for primary victims and secondary victims of crime who are in need of therapy intervention due to the occurrence of a crime. Assists clients in their recovery and achievement of maximum level of independent, competent functioning using a variety of professionally accepted and effective techniques and approaches tailored to the needs of the client(s).
The Contractor shall meet the minimum requirements as specified by Florida law (FS 491) and MUST have a master's degree and MUST have a license in one of the following areas:  mental health counseling, social work, or marriage and family therapy.
For each open and active case, the contract therapy file shall include:
Psychosocial assessment
Treatment plan
Progress notes in a recognized (SOAP) for each billable service.
Treatment plan reviews.
Discharge/Closure summary including a discharge plan (if the client drops from treatment, a discharge summary will still need to be completed in absence of the client).
Consent for Treatment
Releases of Information as applicable
Privacy Practices
Client rights and responsibilities
Appointments with clients will be booked by the Contractor on available VSC office dates.  All appointments are fee for service; therefore, failure of a client to show for an appointment is not reimbursable.
The contractor shall Maintain Confidentiality in accordance with agency contract and state expectations
The Contractor will carry liability insurance (including malpractice insurance, if warranted) relative to any service that he/she performs for the VSC.
In accordance with the VSC Contract Therapist Office Space usage Agreement, VSC will provide, as scheduled, a private office space for the Therapist contractor when scheduled to be on site at VSC for client sessions. The office will be used for the contractor to work with clients who are active with the Victim Service Center of Central Florida. Only VSC clients can be seen at this office location. The fully furnished office will include comfortable seating (i.e. couch, soft chairs), desk, computer, and internet access. Contractor will have access to copier/ printer; reception area and breakroom access.
Interested and eligible candidates may refer resumes with cover letters with subject line "Contract therapy interest" to the attention of joellen.revell@victimservicecenter.org Interested candidates should demonstrate their experience with working with individuals and/or groups who have experienced victimization, sexual assault, complex trauma and/or multiple victimizations.
Sexual Assault Nurse Examiner (Contract Position):
SANE's are expected to be available for at least six (6) 12-hour shifts per month (including nights, holidays and weekends). Must be a Registered Nurse (with 2 years' experience preferred in emergency medicine, obstetrics and gynecology, or forensic nursing). Interested applicants should submit a resume and cover letter with the subject line "VSC-SANE" to Joellen.Revell@VictimServiceCenter.org.
Please note: If you are selected for a position, employees are required to undergo a full fingerprint based background check through the Florida Department of Law Enforcement and FBI including a Sexual Offender database search. Criminal records including illegal drug offenses, violence, violence against children, and weapons charges will not be accepted. Criminal records will be assessed on a case by case basis.
The Victim Service Center of Central Florida does not discriminate in recruiting, hiring, assignment, training, promotion or termination of staff and volunteers, selection of members of the governing board, nor the provision of services based on race, color, religion, disability, pregnancy, national origin, sexual orientation, sex/gender, gender identity, gender expression, genetic information, age, ethnicity, income, veteran status, marital status, or any other factor prohibited by federal, state or local laws, rules and regulations (collectively referred to as "Protected Status").